Summers bring you numerous problems that can damage your natural skin. Some of the common skin problems seen during the summers are Acne, oily skin, a Suntan, rashes infections (fungal), burned skin due to harmful UV radiation.
People generally think these sort of problems are common for only oily skin. But did you really think so? If yes so don't be so ignorant.. you may have this kind of problems in spite of having dry or normal skin. Itchiness, red spots are the most common ones. Cogitated..? Don't worry we have covered the easiest and amazing ways that can protect your skin and last longs your natural glow in the summer.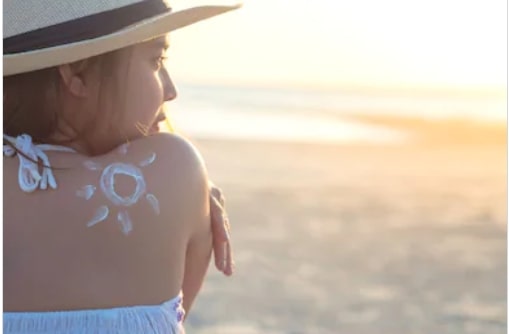 1. Using detox water for clear, hydrated and glowing skin
You can make a bottle of detox water and may have sips of its while working hours. Take 1 litre of natural water, place 8-10 small sized ice cubes, 1/2 watermelon cut into small pieces in it. Add 10 mint leaves and pour 1 lemon sliced into 3-4 pieces. Drink a few sips after every working hour this can help to clear impurities from the blood inside and make your skin glow from outside.
2. Watermelon face glowing mask twice or thrice in a week
Mix 2 tbsp watermelon pup and 2 tbsp curd. Apply it on face, neck and the areas exposed to the sun. Leave it for 15-20 mins and wash it off. Watermelon is rich in vitamin C, A and consist of 92%water. This makes your skin hydrating and helps you to glow. As it is rich in vitamin C its helps to prevent your skin cells from being damaged because of its antioxidant properties.
3. Use correct toner on a daily basis.
Peoples generally not know how to use a toner in the right manner that results in a brighten skin within a week. So here it is, In summers use toner of having only natural ingredients. Like peppermint oil, berberry, coriander etc. Ayurvedic toners are highly recommended because of it organically pure and preservatives free ingredients, like Cucumber, rosewater, nutgalls.
These can refresh, tightens your pore and maintain your complexion into perfect PH balance and helps keep skin into its purest state. How to use toners- Apply to a cotton pad or washed cloth and gently wipe over cleansed face and neck, morning and evening.
4. Apply sunscreen in the right way
Applying sunscreen is not new to us. But what's makes it new is the right way of application.
– Look for the sunscreen that has at least SPF 30 if not more.
– Apply sunscreen 15 minutes before stepping outside.
– Use an Rs. 5 coin sized amount on your face.
– If you are going to be out the whole day, don't forget to carry your sunscreen.
– Reapply every 3-4 hours when out.
5. Having summer skin routine
Do a bit change in your skin routine during summers, that can help your skin cells to take the proper time to grow.
– Apply cleanser first and wash it off.
– Toner to refresh your skin.
– Moisturiser is mandatory in summer too, you can't skip it. Dehydrated skin can lead to eczema, wrinkles, itchiness and infections.
6. Sugar and lemon to remove tan
Keep patience while looking at your tanned skin. It is good to try the home remedies of Suntan before you could rush to your doctor for medicinal treatment. Tanning can't solve all problems but it's good to start.
Take a tablespoon of sugar in a bowl and mix it with one tbsp of lemon juice. Mix them and rub on the face. Leave it for 15-20 mins and wash it off. This paste helps to remove tan our the skin because of having sugar which cleanses the sub burn and lemon act as an antioxidant.
7. Aloe vera and rose water spray to prevent acne due to the direct sunlight
Take an empty spray bottle, fill it half with aloe vera gel and a half with rosewater. Spray it twice or thrice in a day. Aloe vera is rich in vitamin C, A and act as an antioxidant which will remove redness of your affected areas.
8. Honey for scars and acne
Another method that can remove acne from your skin permanently. We know it's tempting to mess with that pimple, but resistance is key. It pushes dirt and bacteria deeper into pores, which only results in more breakouts. Honey has antibacterial properties its a great treatment for acne. Apply honey on pimples for 20 mins then wash it with lukewarm water. Honey has bleaching properties to fade away scars. Apply honey with raw milk for 20 min then wash it off.
9. Makeup sure you clean your makeup thoroughly with a natural cleanser before going to bed
Your skin is as much a part of your body as some other organ. Skin too needs to breathe and grow. When you spread your skin with cosmetics, you additionally end up stopping it. A few sorts of cosmetics which are as liquids and creams block the pores in your skin. This assists the growth of pimples, which when not cleaned consistently can form acne. So ensure you clean your makeups completely with a natural cleanser before hitting the bed.
10. Eat a healthy diet
Diet can affect your skin more than we think. In summers you can't ignore this. Eat 2-3 fresh fruits as they can help neutralise your stomach acids and make you feel light and active. Avoid oily foods or fast food deep fried recipes ones. A great addition to your summers diet must be a cucumber. They are 95% of the water that helps in keeping the body hydrated while eliminating toxins from the body.