Vivek Oberoi is set to depict Prime Minister Narendra Modi in his upcoming biopic titled PM Narendra Modi. Its producers launched the first look of poster today. Directed by Omung Kumar and produced by Suresh Oberoi and Sandip Singh, the film will go on screens shortly.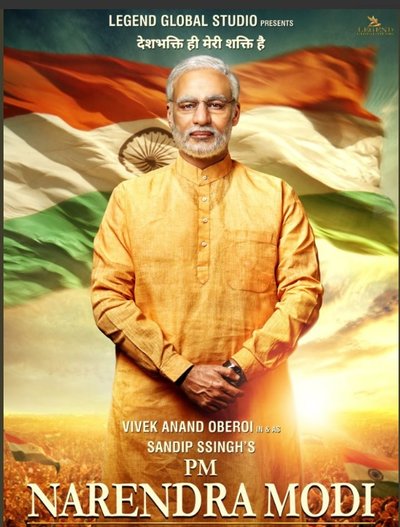 The poster highlights Vivek Oberoi with wig and prosthetics, makeups and beard wearing a kurta. The background has India's banner against the scenery of dawn.
The first poster of "PM Narendra Modi" was revealed by Maharashtra Chief Minister Devendra Fadnavis today in Mumbai. At the poster launch of the film, Vivek Oberoi said he wants to improve as an individual before the finish of the shoot and considered himself a fanatic of PM Modi.
जय हिन्द. జై హింద్. ஜெய் ஹிந்த். Jai Hind 🇮🇳🙏 We humbly ask for your prayers and blessings on this incredible journey. #AkhandBharat #PMNarendraModi pic.twitter.com/t0lQVka7mJ

— Vivek Anand Oberoi (@vivekoberoi) January 7, 2019
The movies is going to be screened in 23 languages across India.
Devendra Fadnavis shared pictures from the launch and said the "film is set to make history." He additionally showered acclaims on the prime minister declaring him a "world leader" and "rajyogi".
This is film is set to create history today with the poster launch of a film based on the life of world leader born in India, a RajYogi in true sense!
Congratulations to this team who is going to be a winning team, eventually ! pic.twitter.com/ydgyRAwD96

— Devendra Fadnavis (@Dev_Fadnavis) January 7, 2019
Omung Kumar, the director of the film, reflected related thoughts. He stated, "This is the most challenging film that I have work in my profession, in light of the fact that to direct a movie—the biopic of a man who is one of the prolific leaders ever in the history of India —is the most difficult thing a director could do."