Do you remember reading about a small colorful van with all the basic amenities that works as a house on wheels? Later on, we got to know about the gypsy culture and many of us are so fascinated with the idea of Gypsy culture.
Well, recently I got to know about the Trippy Wheels, a startup led by two young ladies who have tried to bring in the caravaning culture to India. Trippy Wheels is India's first affordable caravan rental company.
The Caravans have seating & sleeping facilities. It is nicely decorated and along with that comes kitchen amenities, outdoor and indoor games, and tents. Hire one and take it anywhere you want; for a night camp or for simply exploring the wilds or for a long vacation.
And the whole idea of caravanning is awesome. I recently hired one and went to one of the most beautiful and unexplored places of Karnataka called Sakleshpur (near Bangalore).
Here is the little guide which will help you to plan your next exciting trip.
How to book
The booking of the caravan is very simple and hassle-free. Visit the web page Trippy Wheels, check the availability of the caravan for the required duration and number of passengers. It will show available caravans; currently, they have 4-5 caravans only but they're already planning to roll in some more.
You can also call them directly to make the booking. The customer care service is very supportive and quick.
Rent
The rent starts from 4999 and goes up to 8999 INR per day. The size of caravan depends on the size of the traveler group. But remember Caravan will save your hotel charges as it works as a house on the wheel.  Visit the website https://www.trippywheels.com/ to know more.
Payment
You can easily make the payment through their website or get in touch with the executives at Trippy Wheels directly and they would send the payment links. Either way, you can make bookings easily.  Once payment is done Trippy wheels will provide the contact details for their Homestay partner and the driver.
Sakleshpur
Sakleshpur is a hill station town and headquarters of Sakleshpur taluk in Hassan district. It is not very well known and hence many parts of this hill station are still unexplored.
It is 221 KM away from Bangalore and one can reach there by road via NH75. It is a four hours' drive from Bangalore. It is always advisable to leave early in the morning to avoid traffic and be safer while driving through the hills.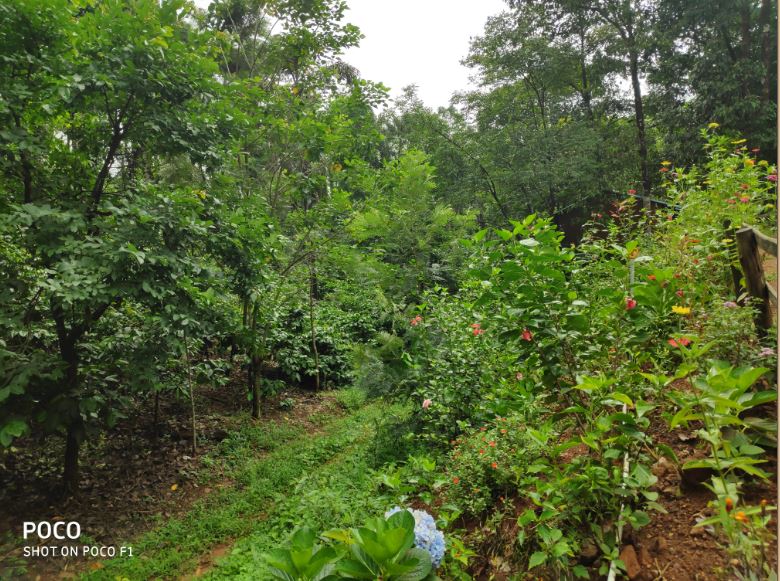 Caravanning
We have hired the Caravan through Trippy Wheels; it has the seating and sleeping facility for five people. The Caravan was spacious and well maintained. When we reached Saklehshpur we halted at Canopy Green Homestay which has a partnership with Trippy wheels. It provided us space for camping and parking our Carvana.
I have been to Sakleshpur before as well but something more was always left to explore. Every time I go there I try to search and visit a new place. This time we had decided to leave at 10 in the night so that we reach by 1 AM. The plan was to spend a night there. Nothing can be better than sleeping under the night sky.
After having a good sleep we were ready to hit the road in the morning. We prepared breakfast by ourselves; we had carried food ingredients that can be cooked using basic materials available in the Caravan. The guy at homestay helped us to select the places which we could cover in a day's time. Make sure to download the map for Sakleshpur before heading out as there will be no network coverage in most of the places.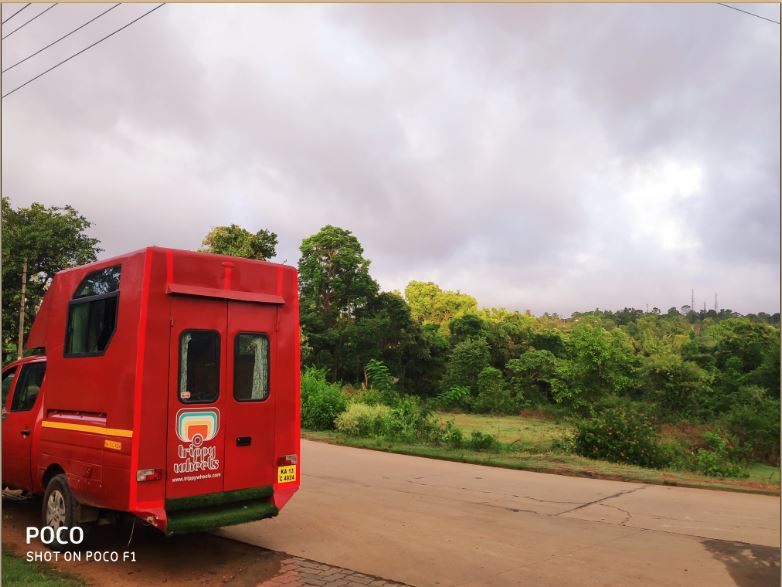 Bisle Ghat View Point
Bisle Ghat is one of the viewpoints where you can enjoy gazing at the western ghat ranges for long. Every corner will give you an absolutely breathtaking view.
It is a bit far off from the center of Sakleshpur but the view is worthy of everything. Even the drive to Bisle Ghat is so heavenly and you won't regret the fuel burnt to reach this place.
Long trees, the green lush forest, and absolute peace; as only a few are able to reach this place, the forest has retained its true nature.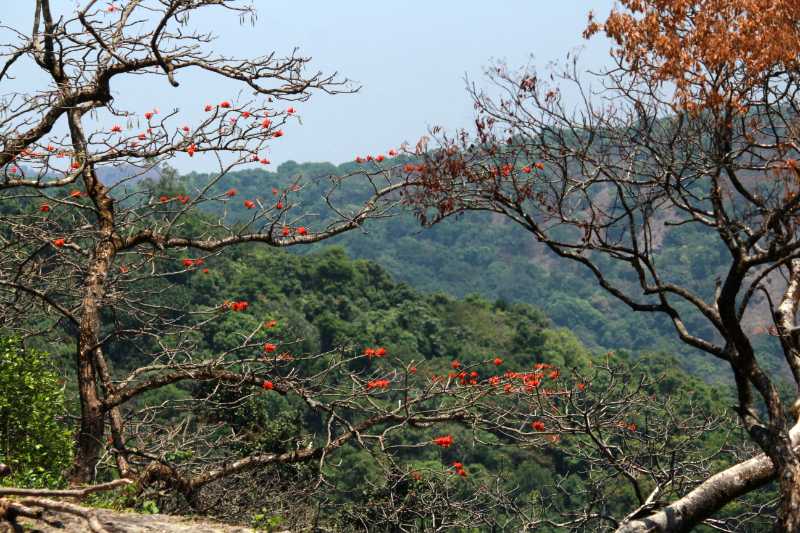 Manjarabad Fort
This 8 pointed star-shaped fort is one of the only few popular places in Sakleshpur. You can visit Manjarabad fort on your way back to Bangalore as it lies between Sakleshpur and Bangalore.
After going through such tough and quiet trails, you feel a sudden rush of people here at Manjarabad fort.  The fort was built in the year 1792 by Tipu Sultan. The fort has sloping walls. It is said that the fort is "the most complete Vaubanesque star-shaped fort in India". One can see the picturesque view from the top of the Fort; during monsoon, it is mostly covered under the fog. On clear days, the Arabain Sea can also be seen from there.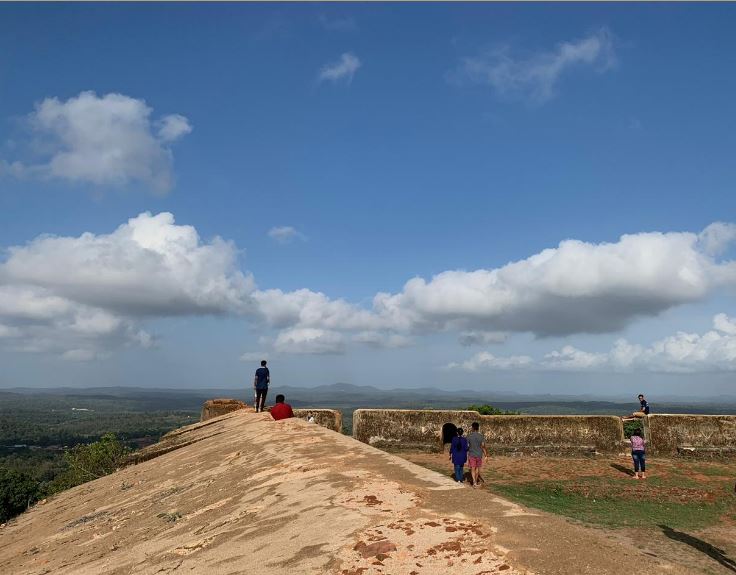 Mooknamane Waterfalls
Sakleshpur has plenty of waterfalls and almost all of them are located in some isolated place. Mooknamane is one such waterfall. The vehicles cannot go ahead after a certain point. During Rainfall it is advisable to park the vehicle near the main road and then walk rest of the muddy path.
And with no direction boards, it is a real adventure to explore the path. We followed the noise of water to find out this beautiful waterfall.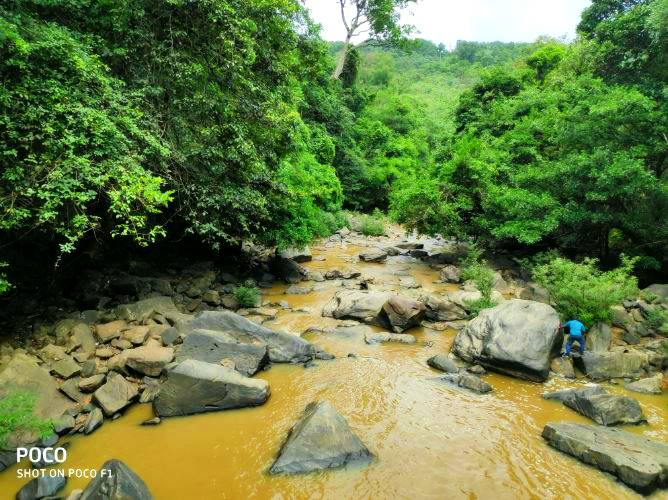 The water was rushing through the rocks and the entire view was so serene. With only two or three people at the waterfall, it was so quiet and one can hear only the flow of water.
Kaginere View Point
This place is basically in the middle of the hills.  You can trek to as many hills as you want; trekking is not tough here. It has lush green plain land in the foot of the hills. You can relax here and listen to the voice of nature. But the view from the top is worth of all the efforts.
We climbed on top of a hill and then sat in silence to enjoy the beauty of nature. Everything was so surreal, the green trees, soft breeze, feeble sun rays & clouds changing shape every minute with the sun disappearing behind them.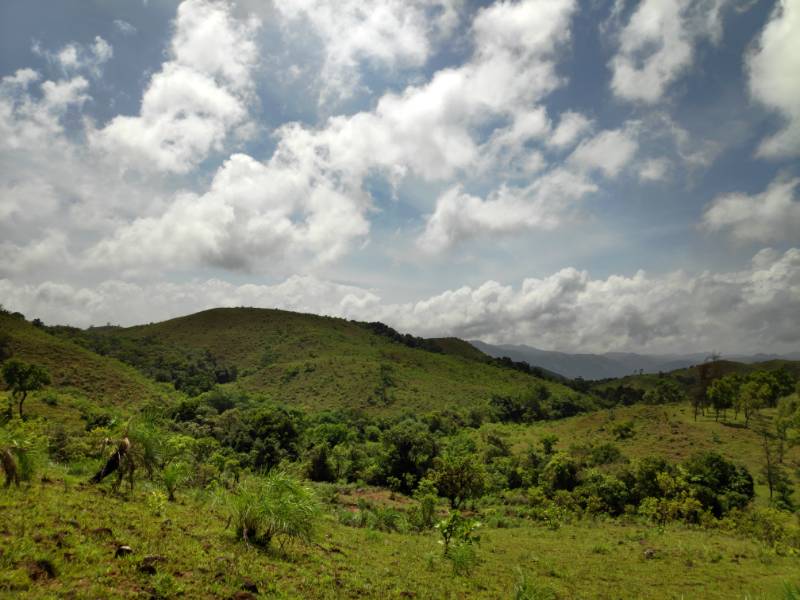 When we reached back, we were already exhausted and hungry. Being far away from the main town this place had no options for food. There was a small canteen where some of the people were having their lunch. Well, we decided not to buy anything from there. And here our caravan came to the rescue; we collected some raw ingredients from the locals and cooked our own food.
Best supper ever!!
The Green Route Trek
This trek was very popular among the trekkers but unfortunately, it has been made illegal to trek here now. If you got caught trekking,  a case will be registered against you and you will have to spend a night or two in the prison.  Despite being made illegal this trek definitely deserved to be mentioned here. It is actually that enchanting.
This trek starts at 3800 feet above sea level in the foothills of the Western Ghats lush greenery, the forests here are more mysterious than the Amazon. On the way, you'll come across numerous waterfalls accompanied by flora and fauna, 57 tunnels and 109 bridges with varying heights. The green route trek (52 kilometers total) is every trekker's dream.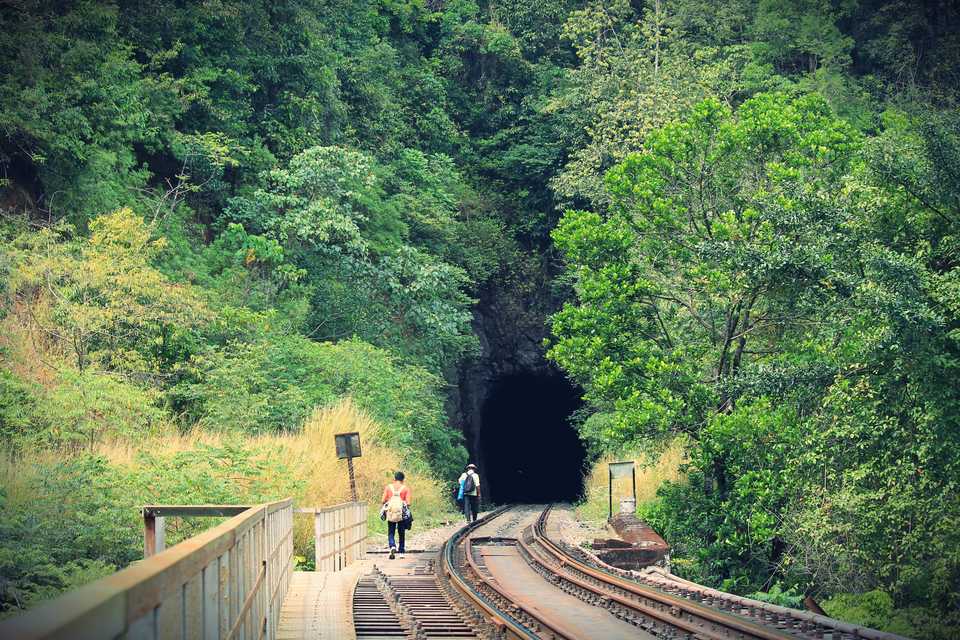 Some of the people still dare to trek here but it's not safe at all. If you're a trekking junkie then try to find a local guide to help you out. But it is advisable to avoid trekking here; people have actually lost their lives on this trek.
Apart from these places, there are Hosahalli Gudds viewpoint, Magajhalli Waterfalls, Patla Batta, Hetthur Deene viewpoint and Kadumane Tea Estate where you go and enjoy the serenity. Also, you will find hundreds of places where you can hop down and click some pictures of the breathtaking picturesque landscape. Clouds play a vital part in enhancing the beauty as they keep on chasing the sun.
Quick Tips if you're planning to go off-roading in Sakleshpur
Even though Sakleshpur is very beautiful land tourism has not been promoted here. This means there will be no cafes or restaurants. You will hardly find any good shops so just make sure to keep all the basic things packed in your bags.
The poor phone network is another big issue. There would be limited access to the internet as well. Please download offline Google Maps for Sakleshpur before the trip. It's better to have the map for the entire town so that you know the way out in case you're lost.
When you drive around Sakleshpur you will hardly find any crowd. Language is also a constraint, most of the direction boards are in Kannada. The moment you find any human population along the way try to confirm the directions with them.
You must carry sweatshirt and raincoat; weather in Sakleshpur keeps on changing.
If you have planned for camping, please keep mosquitoes repellent, torch, and remedy to get rid of leeches.
Leave all the excuses behind and go ahead to explore the unexplored.