Coorg is a beautiful place in the laps of Western Ghats. This place has elements of romance, adventure, serenity and then, of course, religious significance for many of the people. So after being stuck in a vicious cycle of professional duties for almost three months in a row, I knew I needed to cut loose from professional life and pack my bags. And it was equally tough for me to plan things out as it would have been for any regular traveler.  I have always heard about Coorg but my inclination towards it intensified when I read an article about Coffee farm of Tata in Coorg. It manifested my curiosity to know more about this beautiful land. Here's a quick flashback to my trip, hopefully, my experience will help you to plan better.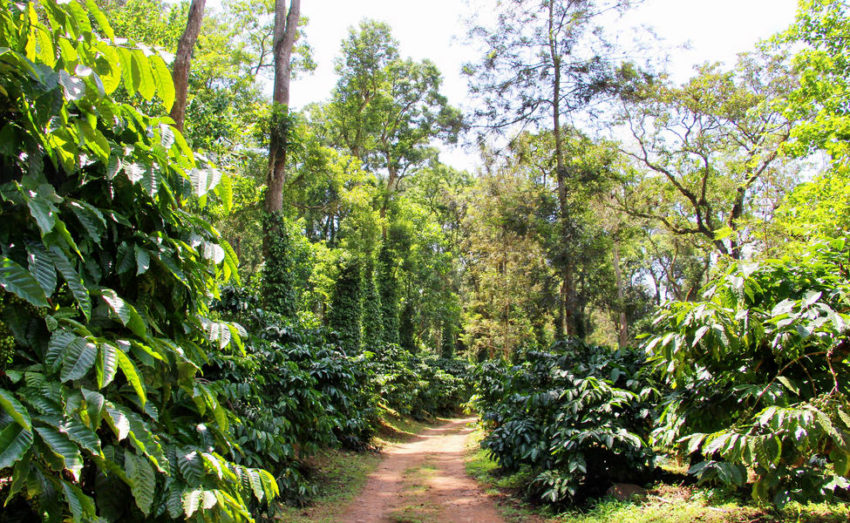 Best Time to visit
The rainy season lasts from the month of May to June; you will be confined to one place during this season as it rains cats and dogs for a longer duration. But yes if you're a monsoon lover then go ahead book a resort and enjoy the scenic beauty at its best. Locals suggested that the best time to visit Coorg is from September to December.
Places to Stay
As Coorg is one of the most popular destinations for Travelers, you will have diverse options for staying. You can choose from homestays to luxurious resorts whatever fits in your budget. You can stay in Madikeri which is the main town (it is the place where the bus will drop you if you're taking bus route). But if you're looking for some isolation and peace you can choose to stay in Chettali which is the most beautiful part of Coorg. It is around 20KM from Madikeri.
How to reach
The most convenient way to reach Coorg is by bus, from Bangalore it takes 6-7 hours. It is better to take the bus at night to avoid city traffic during the day time. Coorg is well connected with major towns of Karnataka. You can also hit the road with your own car and enjoy the scenic beauty in between. The nearest railway station is Mysore which is 95KM from Coorg and nearest Airport is Mangalore, 160 KM from Coorg.
Places to Visit
It totally depends on how you want your trip to be, mine was a leisure trip and I didn't plan much so I just booked a cab and trusted the cab driver as a guide. Cab for the entire day would cost you 2K INR and will cover 2-3 places a day which I think is fair enough. If you're looking for some adventure you have options for packages on Thrillopia, make my trip and some local tour and travels agencies. Google makes our lives easier, isn't it?
Omkareswar Temple
Omkareswar temple is dedicated to Lord Shiva. It was built by Lingarajendra II in the year 1820. It is popular among tourists because of the unique architectural style and obviously, the significance of Lord Shiva in Hinduism also attracts the visitors. This temple has a touch of Islamic architect style, with a dome in the center and four minarets standing at the four corners. Another attraction in the temple is the water tank in front where the reflection of the entire temple can be seen in the water clearly. The tank is inhabited by varieties of fishes and tourists can also enjoy feeding them.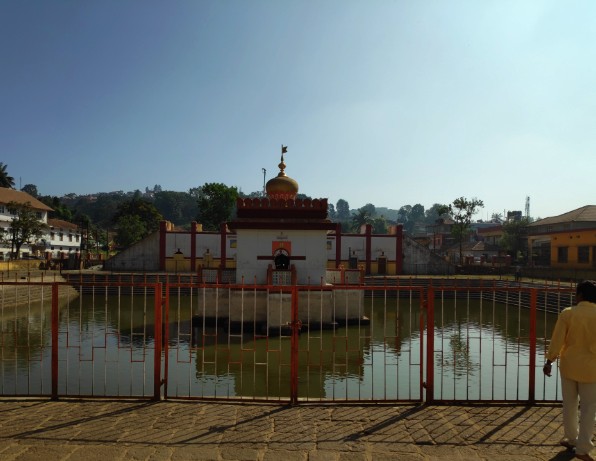 Talacauvery
This place is said to be the origin of river Cauvery. It is surrounded by a temple dedicated to Kaveriamma (Mother Kaveri). There is a pond in the temple premises and river Cauvery is said to be flown through it. Devotees from across the country visit this place to take a holy dip in the pond. Apart from religious significance, this place has a breathtaking view of Brahamagiri hills.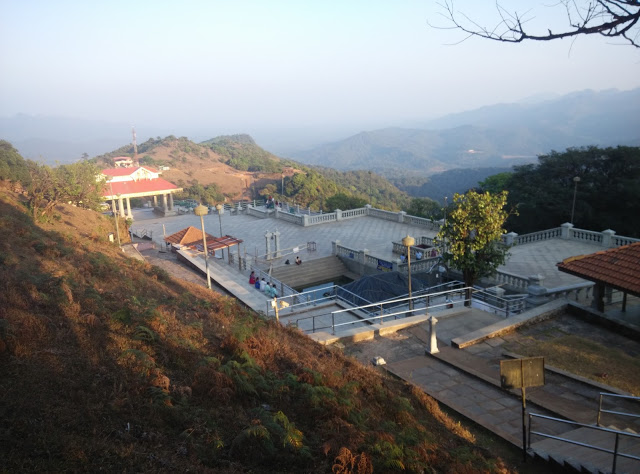 You have to climb up around 400 steps (just note that you have to climb barefoot as the staircase begins from inside the temple). The undulating hills and lush green meadows are very picturesque. Once you reach the top you can breathe in the pure and serene air of the natural surroundings. This place offers a feast for nature lovers, view from the top is just breathtaking, you can spend hours there sitting quietly and feel serene.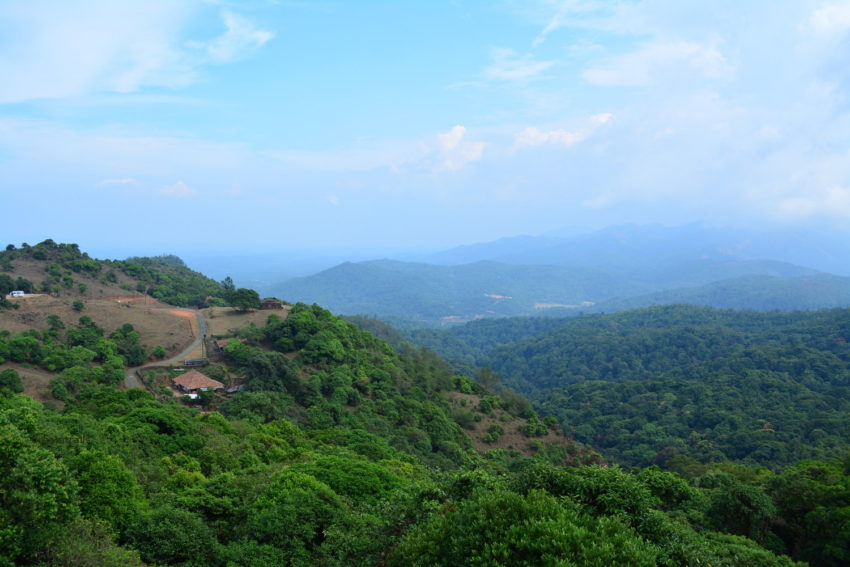 Madikeri Fort
Madikeri Fort is one of the interesting places for sightseeing in Coorg. It was first built in the last quarter of the 17th century by Mudduraja. There was a palace built inside the fort as well. It was rebuilt into a fort of stone and bricks by Tipu Sultan, who gave for the name of Jaffarabad.In 1814, the fort was built with mortar and bricks by the Lingarajendra Wodeyar II.
There have been battles which the fort has seen and thus represents a rich historical and cultural background. As you make your way inside the high walls of Madikeri Fort you will find two life-size stone elephants.
You can stroll along paths that weave past pretty shrubs and flowers towards the 19th-century church which is now turned into a museum. It displays a selection of colonial relics; swords, cannons and guns along with an exhibit of awards that were bestowed upon famous Field Marshal K.M Cariappa. Although the fort is not well maintained one should visit it to encounter the beauty of the architecture. Also, it is used as a municipal headquarters; however, you can visit throughout the day except on Monday when the fort is closed. There is no admission fee.
Raja's Seat
Raja's Seat is a seasonal garden of flowers and artificial fountains, which is one of the major tourist attractions in Coorg District. It is surrounded by high and low-rise mountains and this garden used to be the favorite place of the King of Kodagu. In the month of January, flower exhibition is organized where you will find hundreds of varieties of flowers. Artists make interesting shapes and structure with the help of flowers which is treat for the eyes.
The highlight of the garden is a structure, which has four pillars made of brick and mortar, bridged by arches. Toy Train another major attraction of this garden. For catching the glimpse of the sunset and the musical fountains, visit this park from 5:30 pm to 7:00 pm.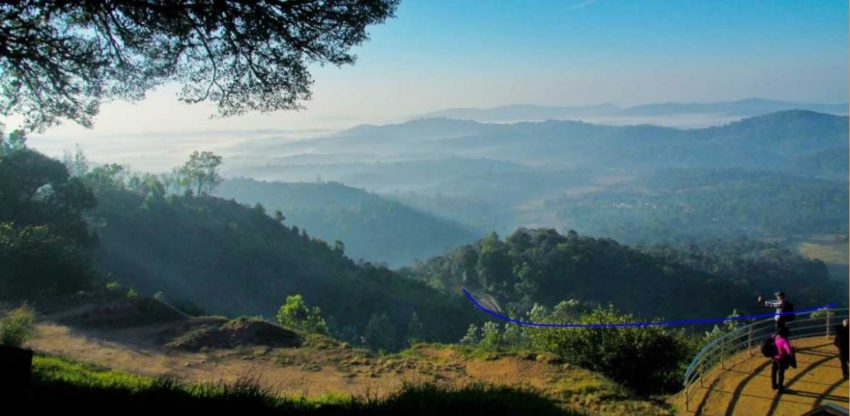 Fragrant scents emitted from tropical plants make things more magical. You can relax at the benches or choose to stroll around the winding paths. There is a musical fountain that plays gentle rhythmic music as it throws colored water high up into the sky.
The Raja's Seat, it stands proudly above the shaped fauna and flowerbeds of the garden. This is where the kings of the Kodagu region in southern India would come with their wives to enjoy peace and tranquility. Raja's Seat is a short walk from the middle of town and it is open all week. There are a small admission fee and additional charge to ride on the toy train.
Dubare Elephant Camp
This was my favorite place in Coorg. Located in the Kodagu district in Karnataka on the banks of the River Cauvery is Dubare Elephant camp. The Karnataka Forest Department has about 150 elephants in various camps throughout the state and Dubare has always been an important camp. The camp attracts many travelers and elephant lovers to the camp. The only place where one can get a closer touch of the giant animal. Tourists can take part in activities involving elephants and observe and learn.
Here, you can spend hours simply watching the elephants and of course, learning more about them. A few trained experts will be there to explain the various aspects of elephant history, ecology, and biology.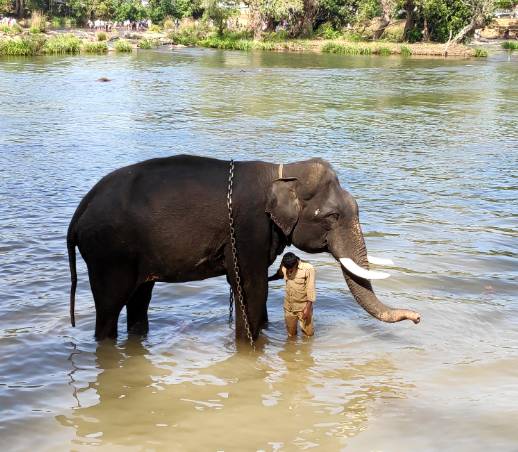 Namdroling Monastery
At a distance of 34 km from Madikeri, there is a small town called Bylakuppe. The main tourist attraction here is the magnificent Namdroling Monastery. Popularly called as Golden Temple, the Namdroling Monastery was established by Drubwang Padma Norbu Rinpoche in 1963. This is the largest teaching center of Nyingmapa, a lineage of Tibetan Buddhism. Golden temple is constructed in a vast area and it adorns 40 feet high gilded images of Guru Padmasambhava (also known as Guru Rinpoche), Buddha Sakyamuni and Amitayus.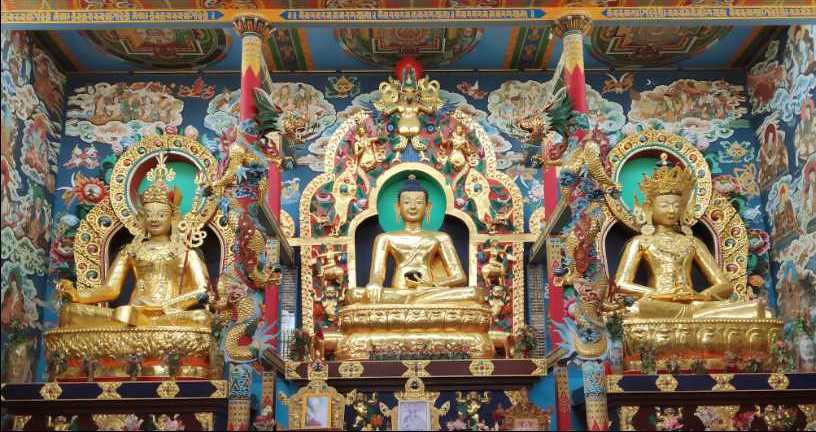 The temple tower is highly ornate. The outer walls flanking the doorway are decorated with huge colorful murals. The walls have colorful paintings depicting gods and demons from Tibetan mythology. The interior of the temple is just beautiful where you can sit in silence and experience the utter peace of mind.
And if you're a Tibetan food lover, there are many cafes and small restaurants outside the monastery where can you have some really good food.
You can also visit the temple during festivals such as the Tibetan New Year (Losar), which is celebrated with much fervor at the monastery. It is celebrated in the month of February or March for fifteen days. During that time, the monastery hosts traditional colorful lama dances and huge thangkas. This magical experience will take you closer to Tibetan culture.
Nisargadhama
On my way back from Golden temple we decided to visit this place called Cauvery Nisargadhama which is an island formed by river Cauvery and its tributaries. It's a part of protected forest reserve mostly covered with bamboo trees, fragrant sandalwood trees, and teak trees.
There is a small pond where you can enjoy pedal boating. Outside the Nisargadhama are shopping and food complex. Here you will find many of the vendors selling local spices, coffee, and clothes. It was not a wow place but I would definitely recommend stopping here and relaxing for a while.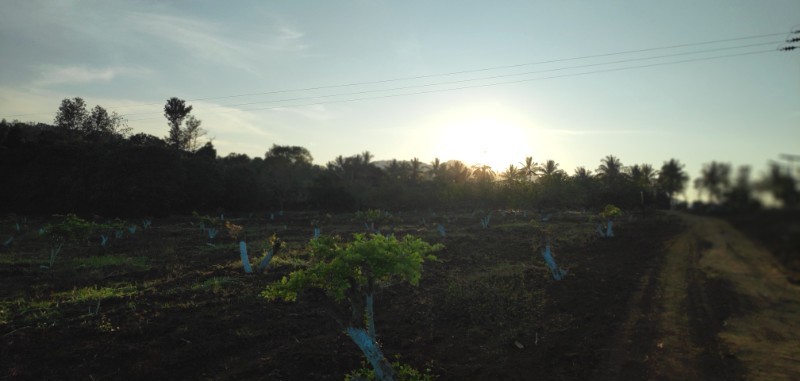 Well there was still a lot to do in Coorg but I chose to spend my last day at the hotel; just roaming around in the woods and around the coffee plantation. Do visit any of the coffee plantations where they will explain you the entire process of coffee cultivation.
Well, now pack your bags, hit the road and get ready to be mesmerized by the beauty of Coorg.

Pictures Credits- Times of India, Resortsincoorg.org, Holidify & Dreamtrails.