Fish Curry Ingredients –
Baikar fish – 5-6 nos
Garlic – 100 gms
Tomatoes – 500 gms
Turmeric Powder
Red Chilli Powder
Fenugreek(Methi Dana) – 20 gms
Overnight soaked rice – 1 cup
Oil
Salt
Coriander Leaves
Many of you might not be knowing what Baikar fish is, so let me tell you. This fish has a single bone in the middle very easy to eat and taste awesome.
Method To Make Fish Curry –
Clean the fish properly. Now take one cup of soaked rice and grind it properly in the mixture to make a fine paste of it. Make sure you add little water while grinding the rice.
Now take a bowl, put fish, add the rice paste, 2 tablespoons of turmeric powder, 1 tablespoon of red chilli powder, salt according to your taste buds. Meanwhile, take a cooking pan to add cooking oil to it and let it heat. When the cooking oil is cooked you can start frying the fish one by one or two at a time. Deep fry the fishes don't burn them.
Crispy Fried fish is ready to eat now you can eat it like that as well.
Now for the curry add 4 tablespoons of cooking oil and let it heat, meanwhile you can make fine garlic paste in the grinder, also dice all the tomatoes. Now when the cooking oil is heated add fenugreek(15 – 20 Methi Dana) to the oil just after that add garlic paste to it. Let it cook for 2-3 minutes after that add diced tomatoes and add 2 tablespoons of turmeric powder, 1 and a half tablespoon of red chilli powder and salt according to your taste buds and cover the cooking pan with the lid and let it cook for 10 minutes.
When the oil starts to leave the surface, this is the right time to add water to it. Add 2 or 3 cups of water to it. I like little flowy curry. So I add more water you can add according to your preference. Let the first boil come in the curry after that you can add fried fish to it and add coriander leaves for garnishing and it is ready to dig in.
Serve fish curry with steamed rice to taste heavenly flavours.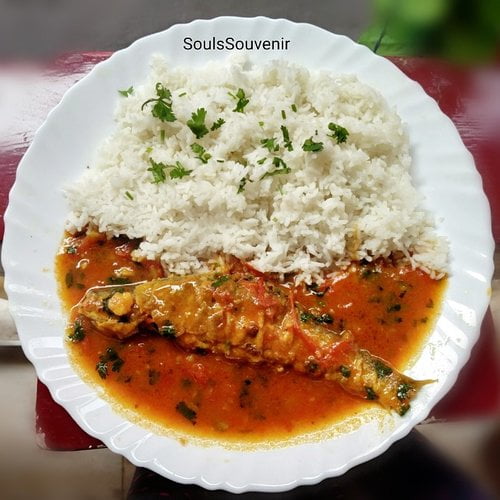 Follow me (Soulssouvenir) on Instagram/ Zomato for the latest food updates.