Disney's Aladdin is a 2019 American musical fancy movie directed by Guy Ritchie. It is an adaptation of Disney's 1992 animated film and has awed the watchers. For viewers like me who experienced childhood during the 90s, the original animated version has set the bar very high, generally because of the late Robin Williams' well sharp comic timing.
Aladdin became one of the most popular animated films to ever be made until it was surpassed by The Lion King, which Disney is adapting soon.
The story to a great extent continues a similar structure as the animated version – Aladdin (Mena Massoud) as the little time thief with a kind nature, Princess Jasmine (Naomi Scott) battling against both male-centric norms and the hateful vizier Jafar (Marwan Kenzari) that prevent her from taking over as the Sultan; and Will Smith as the genie.
Before booking your movie tickets, here are honest tweets from the viewers.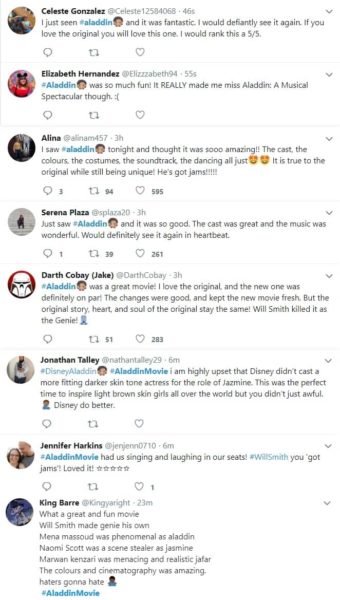 Definitely worth one watch, especially for younger kids.